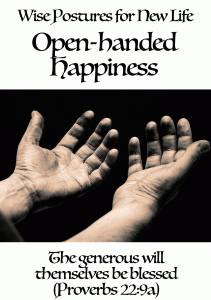 September 6, 2015
Annual Theme: By his wounds, we are healed (Isaiah 53:5)
Seasonal Theme: Wise Postures for New Life (Wisdom's Way of Healing)
Weekly Theme: Open-Handed Happiness – Proverbs 22:1-2, 8-9, 22-23 (22:9)
Here is the preliminary result of my study of the Proverbs 22 reading for this Sunday at Whatcoat:
1 A good name is more desirable than great riches;[a] to be esteemed is better than silver or gold.
2 Rich and poor have this in common (h6298.pagash; a prim. root; to meet, encounter)[b]: The Lord is the Maker of them all.[c]
8 Whoever sows injustice reaps calamity,[d] and the rod they wield in fury will be broken.[e]
9 The generous ( טֽוֹב ־עַ֭יִן literally, "good eye/spring of water," or "looks kindly") will themselves be blessed,[f] for they share their food with the poor. (h1800b. לדַּ dal; from 1809; low, weak, poor, thin)[g]
22 Do not exploit the poor because they are poor and do not crush the needy in court,
23 for the Lord will take up their case and will exact life for life.
Reciprocal nature of this meeting/encounter (thanks to God's mutual creation)
sowing and reaping (injustice); unjust rule and overthrow/defeat
generosity (food) and blessing
exploitation and retributive justice (life for life)
[a] Dad: "Sooner or later, you get to be known for who you are." See Proverbs 3.3-4 (Let love and faithfulness never leave you; bind them around your neck, write them on the tablet of your heart. Then you will win favor and a good name (lit. "good discernment/reputation") in the sight of God and man.)
[b] These encounters tend to be contentious ones. See Gen. 32.17 and 32.8 (Esau meets Jacob); Ex. 4:24 (the Lord meets Moses to put him to death); Prov. 17.12 (a man meets a mother bear – see also Hosea 13.8) and 29.13 (the Lord gives light to the eyes of the poor and the oppressor)
[c] Proverbs 14.31 connects this truth with the reciprocal nature of our life with others and with God – Whoever oppresses the poor shows contempt for their Maker, but whoever is kind to the needy honors God. See also Proverbs 19.17 below, in Note E.
[d] Hosea 8.7a For they sow the wind and they reap the whirlwind. But see Ecclesiastes 9.11 I have seen something else under the sun: The race is not to the swift or the battle to the strong, nor does food come to the wise or wealth to the brilliant or favor to the learned; but time and chance happen to them all.
[e] See Isaiah 14:5-6 The LORD has broken the rod of the wicked, the scepter of the rulers,
6 which in anger struck down peoples with unceasing blows, and in fury subdued nations with relentless aggression.
[f] Proverbs 11.25 A generous person will prosper; whoever refreshes others will be refreshed.
[g] This word used mostly in Proverbs (14/49) and Job (6/49) – Proverbs, Job, and Psalms account for half (26/49). Proverbs 19.17 (He who is generous to the poor makes a loan to the LORD; He will repay him his due. (TNK)) sounds like Matthew 25:31ff.