Th
e KICKR locked up on Monday, Feb. 16, after seven workouts (approximately five hours) from the time I purchased it on Feb. 3. Tech support at Wahoo told me the next morning (Tuesday) that it was a faulty speed sensor in the Top Cap, and that they would ship me a replacement Top Cap. When I received it Friday, Feb. 20, the KICKR worked like its old self for about 20 minutes, before failing again.
What I mean by "locks up" is that after 3-5 seconds of spinning, the resistance increases to the point of stopping the KICKR. There is no other choice but to stop. Then you can spin again or another 3-5 seconds before the KICKR locks up again. Performing a spin down calibration is possible, but the offset number is always 0, and the KICKR always locks up in any other mode.
Wahoo is closed for the weekend.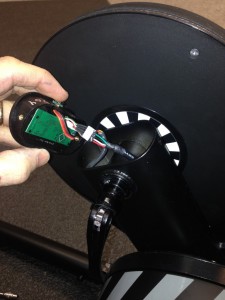 I notice that it's impossible to find a KICKR for sale these days. They're all back ordered (at Performance, the anticipated ship date is March 19, 2015, a month from now). Which makes me wonder about these repeated fails (I bought one that was still in stock at my LBS). I'll call tech support again, and maybe we'll try another Top Cap. But I'm not holding out a lot of hope until I replace the KICKR entirely, which looks like an impossibility until early March.
Til then, I've set up the Comp Mag+ again. Oh well. When this gets sorted out, I'll have the best trainer on the market. Between now and then, I've got a very expensive, very heavy piece of basement junk.
UPDATE (Feb. 23, 2015): Wahoo will replace the KICKR, which they now say must also have a defective strain gauge. I shipped the lame one back on their dime and they shipped a new one to me to arrive via UPS Thursday, February 26.
UPDATE (Feb. 26, 2015): The new KICKR arrived Thursday just before 6 PM and works like a charm. I took it for a spin (SF Rubber Glove, a 20 min FTP test) Thursday evening and logged a revised FTP: 270.