Twenty of us gathered on Sunday, March 13 to revisit our Vision Statement in light of the comments we heard at our Congregational Town Meeting on Sunday, March 6, at which over 30 Whatcoat members and friends participated. The consensus was that most people felt that the Vision Statement we had crafted was both compelling and overwhelming – tough to get your arms around. So, while the congregational feedback we gathered was generally positive, we also felt the need to condense our Vision Statement.
I (Pastor Bo Gordy-Sitth) presented to the group a suggestion for such a revision based on four key partnership we had identified in our gathered statements of Vision:
between Whatcoat and our Preschool/Scouts and their families
between our Young People (youth and young adults) and our Elders and older Boomers
between Whatcoat and those participating in our various recovery ministries
between Whatcoat and Camden area Churches and Community Organizations
The group supported this revision, and the resulting Vision Statement reads as follows:
Whatcoat UMC Vision Statement
Christ transforms every member from the inside out, empowering us to identify our spiritual gifts and to fulfill our life mission. We live life together, studying the Bible, mentoring one another, and serving the community.
We partner with children and their families in the Scouts and Preschool, welcoming them in worship and inviting them to connect with our church and serve the community.
Our young people and elders partner with each other, sharing wisdom, encouragement, and inspiration.
We partner with recovery groups to make more personal connections and to link the "higher power" with a life-changing relationship with Jesus.
We partner with other churches and community leaders so that Christ can use each of our strengths for the good of the whole community.
We are a family that realizes anyone and everyone is our neighbor, particularly "the least of these" – anyone who is in need of food, clothing, shelter, a sense of belonging, and the love of Jesus.
Part 2: Discipleship
The second part of our meeting involved assimilation and discipleship, according to chapter 9 of the Malphurs book: Making Mature Disciples. We wanted to appreciate a comprehensive view of spiritual diversity in the Body of Christ (Romans 12 and 1 Corinthians 12), so we focused our attention on identifying our own and Whatcoat UMC's spiritual "type," using Corinne Ware's "Discover Your Spiritual Type: A Guide to Individual and Congregational Growth" (Alban Inst., 1995). Ware's study was based on a typology of spirituality first articulated by Urban T. Holmes in his book, "A History of Christian Spirituality.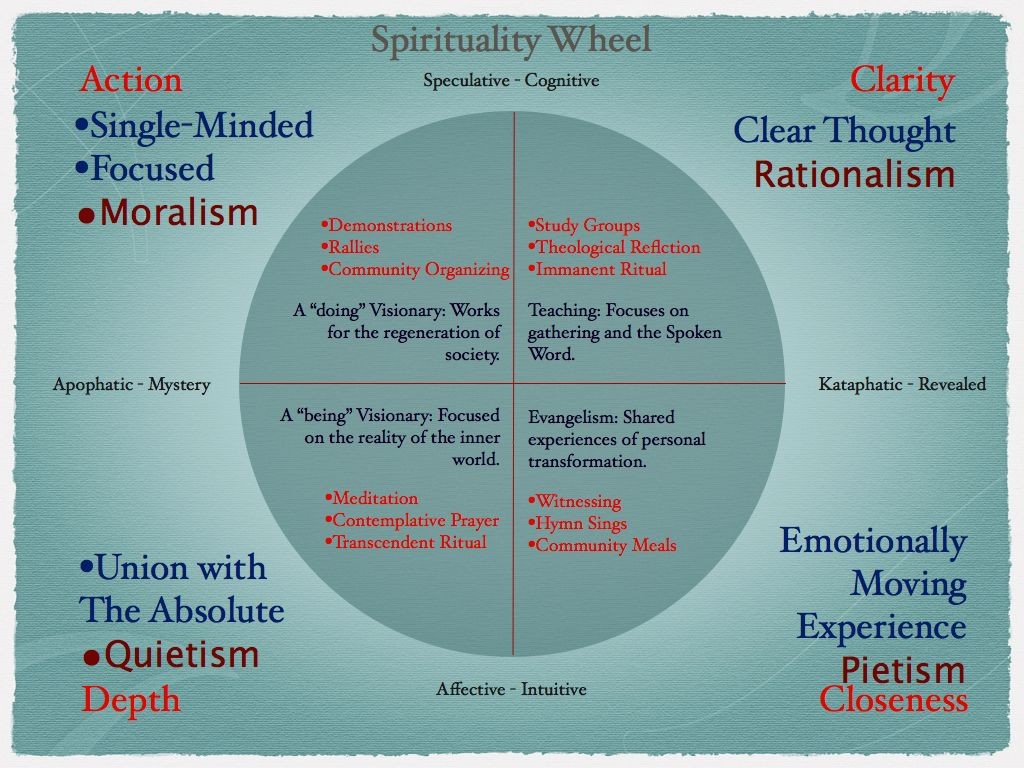 A good introduction to this material may be found in a Blog entitled: Circle of Sensibility/Prayer.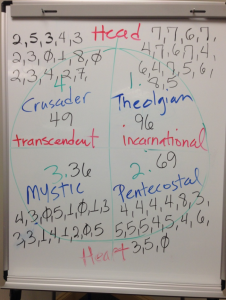 We spent the remainder of our time answering a questionnaire in the appendix of the Ware book for ourselves and for the congregation. Here are the results: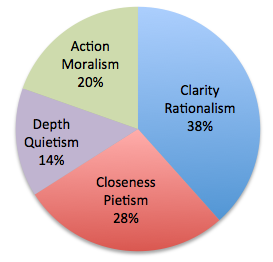 These results show that as a church, we tend toward the Kataphatic (Revealed) forms of spirituality. This tendency is reflected in our worship service structure. Our 8:30 Contemporary Service appeals to those who identify with the Pietistic/Closeness Type of spirituality, while our 11:00 Traditional Service appeals to those who identify with the Rationalistic/Clarity emphasis in spiritual expression. These are our strong suits. The two types of Apophatic/Mystic spirituality (God is greater than anything we can know) that emphasize Action and Depth will be growth areas for our congregation as we seek a more balanced experience and expression in our Discipleship ministry.
We did not discuss the full implications of this study, and we did not identify ways in which we as individuals matched or did not match the particular emphasis of our congregation as a whole. What we did agree on was the importance of recognizing the value of different ways of spiritual expression as we grow as disciples of Jesus Christ individually and as a community of faith. Any disciple making ministry at Whatcoat that seeks to be faithful to this understanding of a well-balanced spirituality will seek to include ways of opening ourselves to the mystery of God's presence among us, in forms of meditation and contemplative prayer, as well as through "hands-on" ways of living out our faith through practical ways of loving our neighbors – particularly in the partnerships we identified as crucial to our Vision.
Members Present:
Dee Waud, Dorothy Shelton, Ann Spence, Jane Maroon, Drew Boyce, Charlotte Frasier, Doyle Tiller, Bonnie Dyer, Pat Dyer, Julie Lewicki, Becky Caswell-Wade, Fred Truitt, Tim Stark, Heather Childers, Margaret Cahall, Tom Cahall, Jane Griesa, Bob Contino, Patti Contino, Bo Gordy-Stith.