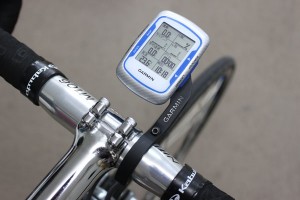 To keep up with the ride metrics (speed/cadence, location, temp, elevation, location, turn-by-turn route instructions, lap speed, ride/clock time, etc.) I swear by the Garmin Edge 500 for several reasons.
Epic battery life – I got so sick of the iPhone dying after an hour or so of keeping up with my location. The Garmin lasts longer than I can – and recharges quickly.
Works and plays well with others (ANT+ wireless devices): Wahoo TICKR heart rate monitor, iBike Newton power meter, several speed/cadence sensors. It generally picks up satellite GPS signals within 2-3 minutes of turning on in all kinds of weather. It uploads TCX files from other sources (I use Ride with GPS for most of my route planning – see below for specific info on uploading TCX files, which is a little tricky at first), and downloads ride files to Garmin Connect, MapMyRide, Strava, Training Peaks/WKO 4 via USB connection.
Simple, user-configurable display
Combines all the features of a high-end cyclo-computer and a GPS unit (displaying simple turn-by-turn mapping or an elevation profile)
Works well in the rain
Easily transfers to different bicycles with inexpensive ($6) mounts
It ain't perfect – if you deviate from the route, the Edge can only tell you how far away from the route you've strayed, as well as give you a rough idea of which direction (as the crow flies) to go to intersect the route. But this is a fair trade-off for the battery life.
To upload a TXC route file, you must move the file to the Edge 500's "NewFiles" subdirectory. Once you eject and turn on the Edge 500, it will convert the larger TCX file to a much smaller course file, which you can call up in the Training screen. The Edge 500 can hold quite a few of these route files, although scrolling through them can be a pain, as the screen only shows the first 12 characters of the filename. It's best to delete ride files after downloading them from the Edge 500 to your computer.
The Edge 500 displays three screens, cycled by pushing a button on its side. You can display from one to eight different data fields on each screen. If you're following a course, the Edge 500 displays three additional screens: elevation profile, turn-by-turn graphic display, and a turn-by-turn list.
On the primary screen, I can display and monitor the following information:
Distance – Speed
Lap Time – Lap avg speed (I set this for 5 mile laps – it's user-configurable)
Pwr 3 sec avg – Pwr 30 sec avg (via ANT+ connection to my iBike power meter)
Heart rate – Cadence
On the secondary screen:
Avg speed – Max speed
Distance – Max Power
Normalized Power – Avg Power
Avg Cadence – Avg Heart Rate
And on the third screen:
Time – Temp
Distance – Total Ascent
Calories – Total Descent
Intensity Factor – TSS (Training Stress Score)
I highly recommend this GPS/cyclo-computer. Read the User Guide.