I've had a set of rollers for a long time. Balancing on them is pretty cool, but the resistance level is pretty tame, and they require a level of attention that does not allow me to do other things (like watch a movie) while riding, unless I want to roll off the rollers. I broke them out again in December, 2013 – five months into my cycling renaissance – and set them up in the garage for some cold, boring rides. I bought a Wahoo ANT+ adaptor for my iPad and found a couple of apps to read speed, cadence, and heart rate while I rolled to a video of a ride (with the iPad perched on a holder attached to the handlebars), but it didn't really work.
I got a TravelTrac Comp Mag+ Trainer and riser block at the end of March, 2014, having logged a little under 200 miles in the garage in four months. I set it up in the basement with TrainerRoad and Sufferfest interval training videos. We had an old laptop and I bought a little Suunto Movestick USB ANT+ receiver so it could send speed, cadence, and heart rate data to TrainerRoad. The screen displayed these numbers, along with a power estimation based on the power curve for the trainer, so each workout involved pedaling to hit power goals for interval sets (for about an hour).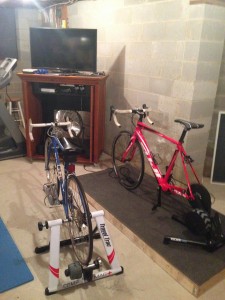 In Wilmington, I used our projection screen in the basement, which is about eight by four and a half feet. It an immersive experience, to say the least. When we moved to Dover (July, 2015) I linked a Mac Mini to a 40-inch flat screen on top of our old entertainment center (with rollers so we can easily position it for different workouts), and placed a high-speed fan where the TV used to be. Our LG Tone Infinim BT wireless headphones connect easily to the Mac Mini.
The workouts were hard. TrainerRoad included a 20 minute FTP test, and my first measured FTP was 217 (up from 205 in April, but nothing to write home about). Each workout left me wrung out and left to dry. When I crashed and grounded the Altamira 2.5, it became my permanent training bike. By the following December, I had logged another 310 miles on the Comp Mag+, or 500 trainer miles for the year.
In the next three months, I logged over 700 miles on the trainer, over five times my previous trainer use.
What happened? It all started with one of the Sufferfest Training Plans (Novice – or something like 300 miles a month for 10 weeks, using six of the 23 SF videos). It featured 4-5 rides a week, including a couple of Sufferfest trainer rides and a couple of "endurance" (Power Zone 2 or PZ2) road rides, one of which was a long Sunday ride (90-150 minutes). When the weather was really crappy (which started happening a lot in February, I replaced the outdoor ride with an indoor one (the SF library includes three endurance rides, of 72, 104, and 116 minutes).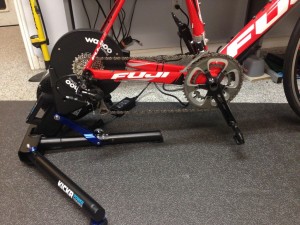 On February 3, 2015, I replaced the Comp Mag+ with a Wahoo KICKR, and things really heated up in the pain cave. The KICKR automatically adjusts resistance in response to power target changes in the TrainerRoad program (in ERG mode which I always use), regardless of speed and cadence. That means I only have to worry about riding, and the KICKR handles the interval adjustments (up to a 15% grade and 1900 Watts). The KICKR has two other modes, Level/Standard, which mimics a fluid trainer, and Resistance, which mimics a magnetic trainer. This TrainerRoad article explains the three modes well. The KICKR also measures power far more accurately than a power curve estimation. In my case, my revised FTP (using a 20-minute test – Sufferfest Rubber Glove) was 270 Watts, or 3.25 w/kg (on Feb. 26, 2015).
The combination of the Sufferfest interval training videos, linked to the KICKR trainer via Trainer Road software/membership ($10/month or $100/year), using a Mac Mini, has transformed indoor training for me from drudgery to a powerful, focused exercise regimen I enjoy. After four months of indoor work (807 miles, 70% of 1143 total winter training miles), I charged up 4500 feet of hills over 72 miles of the Icicle Metric Century in Newark on March 28, 2015. And half of that training was before the KICKR.
And in some ways, trainer rides are better than road rides for increasing ride fitness, as each one is based on my unique Functional Threshold Power (FTP – the rate at which I can ride all-out for an hour), which changes throughout the year.
The KICKR transmits and receives via both ANT+ and Bluetooth 4.0 signals. I use it with my Powertap Powercal ANT+ heart rate strap (for some reason, my Wahoo TICKR heart rate monitor – ANT+ and Bluetooth 4.0 – drops out a lot) and an ANT+ speed/cadence sensor, which only reports cadence, since there is no rear wheel (the chain drives a 10-speed Shimano cassette connected directly to the KICKR). A 2014 Mac Mini has no trouble picking up the Bluetooth signals (and the ANT+ cadence, with the Suunto Movestick in the USB slot). Everything has to be line of sight, BTW.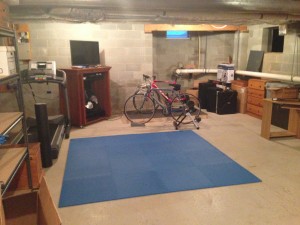 In March, I signed up for the BKOOL Indoor riding simulator (and website), which added a whole new dimension to training in the pain cave. The software pairs with the KICKR, HR monitor and cadence sensor, and renders me as an on-screen avatar with scenery and even other (live) cyclists. I raced with six other riders the first day, on a course in Dubai! In the end, the BKOOL rides were not as varied as indoor rides must be to avoid mental and physical fatigue, even though it was a cool idea.
Thats a long, long way from rollers in the garage!