Psalms Morning and Evening
The Book of Common Prayer includes an Anglican-based Psalter with a schedule for singing all of the Psalms in any given month (morning and evening). I've been using this method of daily prayer during 2016, and have been amazed at the way this monthly tour of the Psalter guides me toward God's heart and strengthens my faith – even as it violates almost every rule of modern spiritual sensibility (read: relevance). The Psalms transform the DNA of my soul – teaching me both a new way to feel and to pray.
But I'm getting ahead of myself.
You can't really pray the psalms unless you can sing them.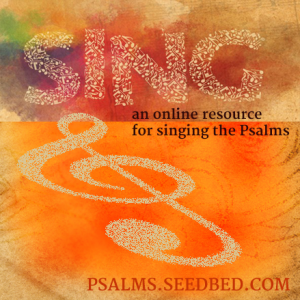 Upon returning from this year's spring prayer retreat, I discovered a wonderful site that makes all of the Psalms in metrical versions, together with audio files of suggested hymn tunes. It is substantially the work of Julie and Timothy Tennent, who sing the Psalms together daily.
If you want to sing the Psalms, you have three main choices:
Chant them, using simple musical couplets that typically move on the final three notes of each line (where the text is marked, or pointed) after singing the first part of each pair of lines on a single note. This is one of the most ancient forms of Psalm singing – many hymnals with Hebraic  collections of Psalms (usually in the back) for responsive reading are pointed above the syllable on which the singer shifts from the "reciting tone" to the notes that move musically at the close of each phrase. These responsive settings are typically listed with one or more antiphons (which function more or less like a chorus), which can also be linked (musically) to the chant tone.

Cynthia Bourgeault has written (and sung) a wonderful primer on chant in her book and CD, Chanting the Psalms. Anglican chant adds rich harmonies to the musical line. If you're interested in finding out more, but aren't ready to purchase a book, you can enjoy two YouTube video introductions to chant (Part 1 and Part 2). Bourgeault's work reminds me so much of Betty Edwards' Drawing on the right Side of the Brain, which invites everyone to recover their birthright as artists.
Chant typically weirds out people who are new to chant, but it's power lies in its accessibility – anyone can chant. And Christians have been doing it for centuries (we call some of it Gregorian Chant after Pope Gregory the Great, 540-604), following our Jewish family, living and ancient, who have been singing the Torah, Nevi'im, and Ketuvim since God sang light into being.The other distinct advantage of chanting the Psalms stems from chant's ability to adapt to the text as written – so you're able to use the translation you are reading without modification.


Sing Metrical Versions of the Psalms, using familiar hymn or song tunes with similar meter. This is the method the Tennent's use on their website above, although this tradition dates back to the Genevan Psalter (1539), a reformation gift of the French-speaking Calvinists in Geneva, which broke from English and Scottish traditions (which used Common Meter virtually exclusively – and exhaustively: 8 syllables, followed by 6, as in the tune for Amazing Grace) by setting the 150 Psalms to tunes with 110 different meters. The Bay Psalm Book, one of the earliest publications in colonial America, is another example of metrical psalmody. Depending on the hymn tune chosen, this form of Psalm singing can be very familiar and accessible to an individual or group. A metrical adaptation can also sound like poetry. Yet metrical adaptations are always paraphrases of the original, and some sacrifice fidelity for musical accessibility.

Provided you have access to metrical versions of the Psalms – either by writing them yourself – a neat trick – or by accessing several online and published collections (such as the Sing Psalms collection referenced above), singing them is a simple matter of matching the metrical version with a tune you know – see the Amazing Grace example above. Many hymnals feature a metrical index, which makes this kind of search pretty easy.
Once you cross the hurdle of finding metrical versions, however, you run into a couple of downsides to this form of Psalm singing. First, since the tunes are interchangeable, particularly with Common Meter, the words and sentiments – the meaning of the Psalm – tends to be irrelevant to the mood of the tune you happen to be using. Or all you can think of are the words you typically associate with the tune you are using (if you have a history with the hymn tune). And second, the method writers use to fit the Psalm into a metrical arrangement can sometimes go far afield from the sense of the original translation – a huge problem with the third method of Psalm singing covered below, lyrical versions of the Psalms.
With these caveats, this method of Psalm singing is very singable and inspirational.

The third major way to sing the Psalms is by using lyrical, Psalm-based compositions – new and old – which are inspired by one or more Psalms, or a verse(s) within a Psalm. Many well-loved hymns fall into this category, but most people who sing them miss the connection: "A Mighty Fortress is Our God (Psalm 46); O God Our Help in Ages Past (Psalm 90); "Joy to the World" (Psalm 98); Praise My Soul the King of Heaven (Psalm 103); and "O Worship the King" (Psalm 104). Hymn writers didn't stop there, of course. Michael W. Smith wrote "How Majestic is Your Name," a contemporary adaptation of Psalm 8, in the 1980's. Chris Tomlin wrote "Forever," an adaptation of Psalm 136, a quarter of a century later. You don't have to be writing church music to take inspiration from a Psalm, though. U2 collaborated on "40 (How Long)" in 1983, for the final song on their album, War. The song is based on Psalm 40:1-3. Sinead O'Connor and Ronald Tomlinson wrote "Psalm 33 – Sing All You Righteous to the Lord." And then there's the haunting (and perhaps for some, unsettling) adaptation of Psalm 23 by Bobby McFerrin, dedicated to his mother.

This option can be extraordinarily inspirational, but at a pretty steep cost in fidelity to the original Psalm. Many of these adaptations vamp on a verse or even a phrase, and lose entirely the sense of the whole. Psalm 22 is a great example. That's the one that begins, "My God, My God, why have you forsaken me?" But it goes back and forth in cycles of lament and praise – before closing with astounding praise. Most lyrical adaptations of Psalm 22, such as one of my favorites by Michael Card, "Death of a Son," attempts some of this back and forth – but the sense of lament predominates. Scott Brenner, one of my favorite contemporary worship song writers, composed his adaptation of Psalm 22 in two parts, the first part of which a listener described as "what could/would happen in a trip to hell and back." If you give it a listen, wait for it halfway through the track. Part two feels like ascending to heaven.
There is astounding variety in this third major practice of Psalm singing. On the one hand, you are certain to find something you might like – at this point, my Psalm collection is at 907 (including 19 versions of Psalm 23) and counting – and I've tried to be selective. There is an ocean of material available, ancient, traditional and contemporary, in every style and taste. Composers are taking flight, using the Psalms as a launching point, as well as working creatively to set every word of the Psalm translation to music. Because this form can be intimidating to non-musicians, much of this material involves repeating an easier chorus in between verses sung by a cantor/leader. Marty Haugen's "Shepherd Me, O God" (Psalm 23) is a great example of this genre. And did I mention Taize? Here's an adaptation of Psalm 117, Laudate Dominum.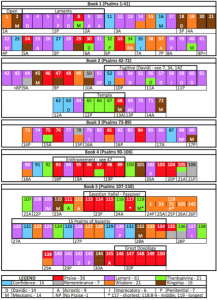 So now you know a little bit about my obsession. It gets worse, of course. Or better, depending on your point of view. I found an interesting resource by Bradley R. Johnson (2014, Crown & Covenant Publications), titled "150 Questions About the Psalter," that includes a graphical way of arranging the Psalms. Check it out – I've modified it slightly, adjusting some of the classifications using other sources. Below the Psalms is the monthly schedule from the Book of Common Prayer (1982) to sing through the entire Psalter every month, in daily morning and evening prayers. For that wonderful practice, I'm using primarily the wonderful contemporary psalter – Psalms for All Seasons: A Complete Psalter for Worship.
I hope you enjoy singing the Psalms! And I pray that entering into this world, your birthright, will bless you and those around you with peace beyond understanding. The Book of Common Prayer includes a Psalter with a schedule for singing all of the Psalms in any given month (morning and evening).
Bibliography
Psalters and Commentaries
Online References