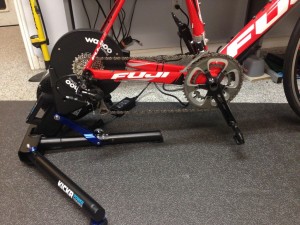 I started training on the Wahoo Kickr  yesterday, February 3, 2015, and immediately discovered that I've been training to inaccurate power predictions using the TrainerRoad calculations for the Performance Travel Trac Comp Mag+ trainer (TR's estimates for the Comp Mag+ were well below what I was actually doing).
Setup was simple. After unboxing (it weighs 50 pounds!), I extended the stabilization legs, set the trainer height to 700c, plugged it in (leaving it plugged in is OK) and attached my hobbled Fuji Altamira 2.5C. The Kickr came with a Shimano 10 spd cassette (11-12-13-14-15-17-19-21-23-25). It's extraordinarily stable, in and out of the saddle, even with a 120+ cadence.
I used the Wahoo Utility App to run my first spin-down calibration (spin up to 22+ mph and let it coast down to 10 mph) via BlueTooth. Everything else I'm doing with it uses its ANT+ capability, connecting with TrainerRoad running on our old Dell Laptop with a Suunto Movestick Mini USB ANT+ receiver. In ERG mode, TrainerRoad not only receives power and speed data from the Kickr (along with heart rate and cadence from my other ANT+ transmitters), the software controls the Kickr's resistance as well. Changes ramp up (or down) gradually, so it's almost imperceptible at first.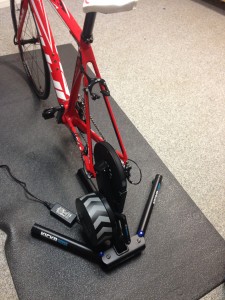 I'm used to using speed to nail power targets. Once the Kickr sets its own resistance, I can pedal within a +/- 10% cadence RPM window at a given power level. Which is a lot more, like, riding outside. Pairing the Kickr (in ANT+ mode) on TrainerRoad was nothing. My first test ride on the Kickr used the Sufferfest session "The Hunted." I rode "The Elements of Style" (IF .71 and TSS 32) early this am. After another day of rest, it'll be time for a 20 min FTP test Friday. The one I did Monday (on the Comp Mag+) was a bust. After warming up, my heart rate hovered at max for the first 10 minutes of the TT, before I stopped to get my heart rate down and limp the rest of the way home. I'm never, ever, gonna do that again. My last complete FTP test was 217 on Dec. 13, 2014.
I'm now suspecting that my fatigue and breakdown over the past three weeks has everything to do with the overtraining I was doing. The Kickr price tag was high (even though I got 10% off by purchasing it fromPerformance during their Tuesday lunch time special – plus 10% in BongoBucks). But it just might save my life.