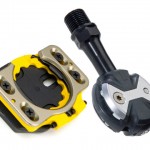 Besides the bikes, I start with clipless pedals. I fitted out the Altamira 2.7 with Speedplay Zero Chrome-Moly Race Pedals, which clip in from either direction and have a tiny little profile. The cleats have held up well for a year and a half. Speedplay pedals allow a bit of play when you're clipped in, which is easier on your knees. I bought the "coffee shop" caps to cover the cleats when I'm off the bike, as they are not very walkable. The cleat spring requires a little oil now and again. (More on the bike shoes in the kit info section.)
For the Centurion and the Altamira 2.5C (now my exclusive trainer bike), I use Shimano PD R-540 pedals, which are pretty standard, cheap, and a little clunky to get into. Good enough for the training room, though.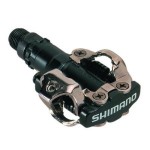 For the hybrid, I use Shimano PD-M250 SPD MTB Pedals (with Shimano SH-MT21 MTB Shoes), which are also dual entry. The cleats are walkable, too. They're tough, easy to get in and out of, and cheap. What's not to like? OK, they're a tad heavy, as pedals go, and not very sexy looking. (So there's that.)
Next up: tires, wheels. Since Newport, it's always been "Conti's," and they don't make a better road tire than the Continental Grand Prix 4000 S II, the Mercedes Benz of road tires. Good traction, puncture resistant, and long-lasting. I ride nothing else. They're pricey, too, but you can find them for a lot cheaper than the $75 they sometimes go for. (Yup, that's the cost of each one). Best of all – the rubber compound is called "Black Chili." How cool is that? I run 23mm tires at 110 psi.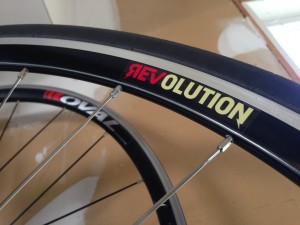 I replaced the stock Oval 327 wheels and hubs with Revolution Wheelworks REV27 clinchers, dropping from 1943g to 1420g rolling weight. The 23mm tires seem to work well in the 19mm wide clinchers.

I feed them with a constant stream of Forte tubes from Performance (my LBS) – but not the light/race version. I went through a slew of those and got really good at changing tires on the side of the road. Speaking of which, I put my road kit in a couple of water bottle ends sealed together and carry it in my seat tube cage.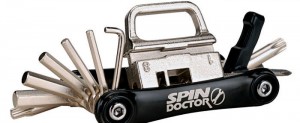 Inside (emergency tool kit):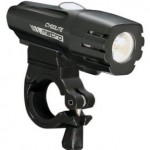 When Phillip Bishop was killed commuting home on Brackenville Road, I started riding day and night with flashing lights front and rear. My headlight is a Cygolite Metro 500 USB rechargeable, and my taillight "blinkie" is an Axiom Pulse 60 USB rechargeable (both are good for several hours before a recharge). Very small price to pay for an extra margin of safety. No one can miss me, and the powerful headlight has gotten me home when the sun abandoned me near the end of several winter rides.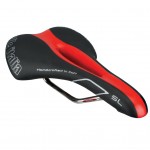 I replaced the stock saddle with a Selle Italia SL Flow Saddle. Good move – very comfortable. I spent 12 hours in that saddle from Philadelphia to Allentown and back in the course of the two-day Ride to Conquer Cancer, October, 2014.
I also carry a recharger on long rides. It can recharge either light, but I typically carry it to keep the iPhone going (and recording my GPS track – which eats battery life like it's going out of style). The Anker 2nd Gen Astro 6400mAh Portable External Battery Charger takes a long time to fully charge (something like 6-8 hours), but packs three full iPhone charges.
The computer I use deserves a page unto itself, as well as some information about my kit.