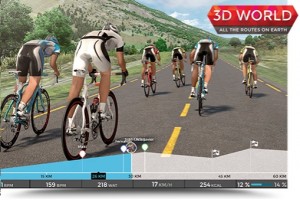 I tried the BKOOL ride simulator today and wrote a lot about it here. It was a blast riding with a half dozen other riders on a course in Dubai! We had ourselves a race! The ANT+ or Bluetooth pairing worked seamlessly, without my babysitting and without a lot of annoying signal dropouts.
I didn't play any music – I'll fix that next time. First impressions: it's a kick riding real time with others in a sim world, and the tech works remarkably well. On the downside, the workouts are nowhere near as varied as the Sufferfest interval workouts, and the resistance makes the entire ride a hammerfest. The $15 monthly subscription price is pretty hefty as well.
More to follow, I'm sure. It was a great way to spend part of our snowy day!